School Camps and
Student Teambuilding
Beyond Adventure presents a comprehensive student teambuilding intervention designed to target the needs of your company or school.
Projects require that people work together, so teamwork has become an important concept in organizations.
Effective teamwork is an intermediary goal towards getting good, sustainable results. Industry has seen increasing efforts through training and cross-training to help people work together more effectively and to accomplish shared goals, whether colleagues are present or absent.
It is our goal to achieve these results by providing effective facilitation with our student teambuilding programme.
We design a specific programme according to your needs as a corporate company or school. Some of the outcomes of such an intervention are listed below: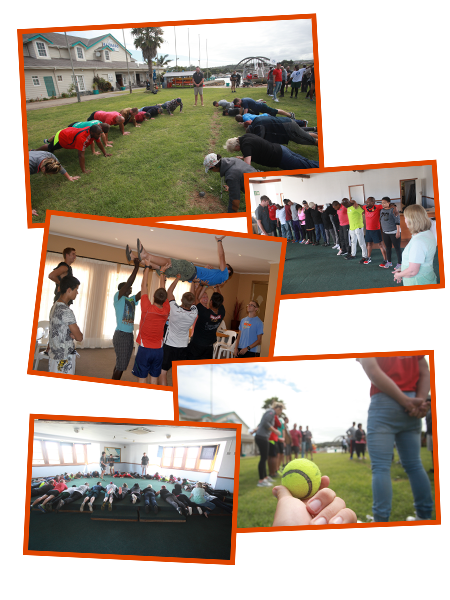 We have numerous options for school camps and teambuilding. Please see below what we offer.
AGE GROUPS: All different age groups.
VENUE: Beyond adventure, Bushman Sands, Alicedale
ACCOMMODATION: Student accommodation (please provide your own bedding and towels)
ACTIVITIES: Leadership and initiative games, abseiling, climbing wall, low ropes course, paintball, night hikes including star gazing
OTHER: Volleyball, boeresport, large swimming pool
COSTS: Accommodation: R150.00 / night / student
STUDENT MEALS: R50 / meal
STUDENT TEAMBUILDING ACTIVITIES: R120 / day
PAINTBALL (extra): R180.00 for 100 balls (per person)
If you would like to organise a school camp or teambuilding please feel free to contact us on +27 (0)42 231 8051 or email us on bacampus@myriver.com.
Some of our activities
Adventure Racing
An outdoor physical race consisting of a combination of two or more disciplines, including orienteering and navigation, cross-country running, mountain biking, paddling, climbing and related rope skills.
Communication
The process where information is transferred from a sender to a receiver via a medium. Our aim is to improve or streamline communication in the team. We achieve this by placing the team in situations where communication is affected.
Conflict Management
Long-term ongoing process regarding the management of intractable conflicts.
Conflict Resolution
Successful conflict resolution occurs by listening to and providing opportunities to meet each side's needs, and adequately address their interests so that they are each satisfied with the outcome.
Entertaining Activities
Fun activities to help you relax and enjoy yourself!
Extreme Physical & Psychological Challenges
Not for the faint-hearted! These challenges are based on military endurance tests designed to break personal barriers.
Leadership
The ability of an individual to influence, motivate, and enable others to contribute toward the effectiveness and success of the organizations of which they are members.
Planning/Goals
A plan of action intended to accomplish a specific goal.
Team Work
The cooperative effort of a team of people for a common end. Your team will be asked to perform a task that requires team work.